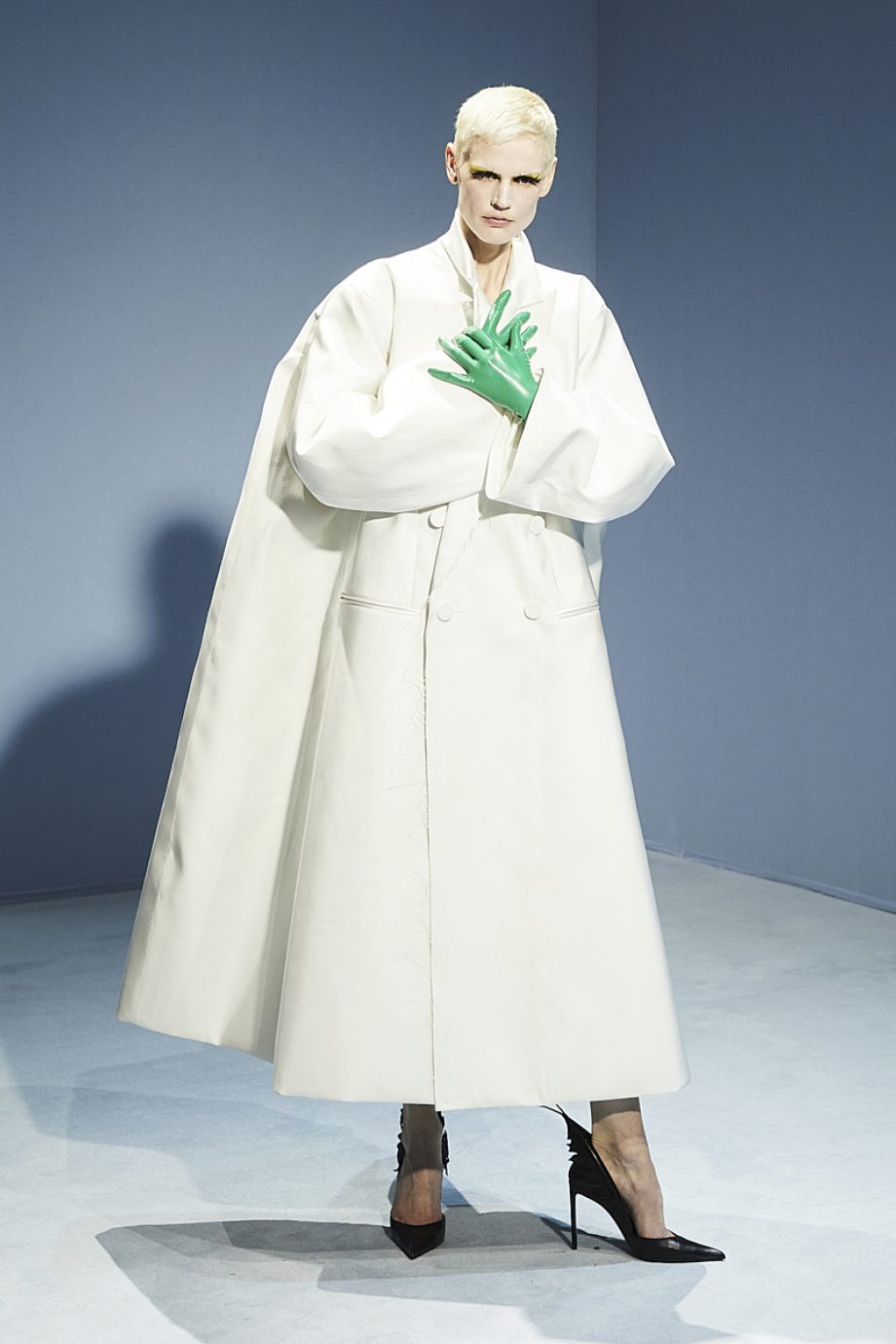 Haider Ackermann debuts at Jean Paul Gaultier Couture
After a long absence from fashion weeks, Haider Ackermann presented a couture collection on Wednesday under the label of Jean Paul Gaultier Couture as its fourth guest designer. While Gaultier shows are known for their extravagant spectacle with feathers, glitter and wigs, Ackermann focused on the understated side of the fashion label. With his couture collection, the Belgian-Colombian designer proved that a minimalist and timeless collection can also be a fashion spectacle.
Haider Ackermann for Jean Paul Gaultier Couture
When Jean Paul Gaultier said farewell to couture in 2020, it seemed like the end of an era. But it quickly became clear that the designer's fashion heritage would be kept alive through collections under the name of the fashion house, made by other designers. Olivier Rousteing, Chitose Abe, and Glenn Martens previously created couture collections for Jean Paul Gaultier Couture and now it's Haider Ackermann's turn to bring his vision to the iconic French fashion house.
In an interview with WWD, Ackermann stated that his collection would focus on the unmistakable quality and craftsmanship of Gaultier, instead of theatrical designs and shows, he wanted to zoom in on the understated side of the fashion house, as it began in the 1990s. "I want my collection to border on pieces that are very serene, quiet, linear, and pure. I want to bring back some of the purity that Gaultier showed before, when you take away all the styling and embellishments."
The collection radiated the purity that was Ackermann's goal, featuring a sleek black suit with subtle cut-outs, a form-fitting pink dress with a geometric halter top, and architectural kimono dresses, paying homage to Gaultier's craftsmanship and the atelier that hand makes these ingenious designs.
Haider Ackermann for Jean Paul Gaultier Couture
©SPOTLIGHT
Standing Ovation
The designs perfectly embody the essence of femininity: the collection is a high-end mix of sensuality, modernity, and minimalism, celebrating women and their power. This message was even more pronounced during the show with a special tribute to women in Iran. A song by Iranian artist Shervin Hajipour called Baraye, describing the murder of Mahsa Amini and the current protests of Iranian women, was played. "In haute couture, you elevate the woman, so you can't ignore any other woman and her right to freedom," said Ackermann after the show.
At the end of Ackermann's couture debut under the French fashion house, he received a standing ovation from the audience, which included some of Ackermann's industry friends with whom he has been working for a long time.
celebrate independence day in style with the patriotic george washington merica t shirt perfect for showing your love for the country
honor washington and lincoln on president s day with the patriotic presidents t shirt perfect for men and women
honor the presidents with style and comfort in the unisex president s day long sleeve t shirt
patriotic tribute the classic president s day t shirt
celebrate president s day in style with the patriotic happy president s day classic t shirt perfect for showing your love for the country
honor the presidents and show your american pride with the patriotic usa celebration shirt perfect for president s day and other patriotic holidays
celebrate president s day in style with the patriotic usa celebration shirt perfect for showing your love for the country
celebrate president s day in style with the patriotic design t shirt perfect for showing your love for the country
patriotic appreciation the classic president s day t shirt
patriotic simplicity the perfect president s day t shirt
patriotic humor the perfect merica funny abe lincoln 4th of july t shirt
patriotic family the perfect happy president s day t shirt with american flag design
patriotic spirit the perfect happy president s day t shirt for showcasing your love for america
patriotic celebration the perfect happy president s day t shirt for usa lovers
patriotic celebration the perfect happy president s day t shirt with stripes and stars